The Magic of Tantra™ Weekend Workshops
Discover the Path of Tantra for Awakening ™
The Magic of Tantra: Essential Explorations in Love and Freedom
Open to Profound, Authentic Connection

Fully Express Your Aliveness and Passion

Explore Safe and Subtle Conscious Touch

Learn to Create Healthy Boundaries

Experience the Supportive Power of Ritual

Shine the Light of Awareness Deeply Within
During this experiential workshop, you will learn foundational tantric practices that will support you in knowing your True Self as love and freedom. Once this is tasted, life begins to flow effortlessly from the heart. You will take home tools for living an authentic, awakened life.  This weekend is open to individuals and couples. There is no nudity in this class.
The Magic of Tantra: The Full-Body Orgasm and Beyond
Open and Clear Your Chakras

Heal and Transform Sexual Blocks

Learn 3 Steps to Activate the Full-Body Orgasm

Discover the Secret to Becoming Multi-Orgasmic

Experience the Power of the Senses in a Tantric Ritual
During this experiential workshop, you will expand your capacity for pleasure. You will be experience a full-body orgasm and learn how to bring a new level of aliveness into your sexual relating and other aspects of your life. You will leave this weekend with a tool kit for being more present, radiant and aware in your life and relationships. This event is open to individuals and couples. There is no nudity in this class.
The Magic of Tantra: The Dance of Masculine and Feminine
Explore Masculine and Feminine Energy

Experience the Timeless Through Ritual

Play with the Magnetic Qualities of Polarity

Discover Non-Duality as a Path of Awakening

Learn how Self-inquiry Can Enhance Awareness

Clear Obstacles to Unconditional Love and Freedom
During this experiential workshop, you will learn how to gracefully navigate the dance of masculine and feminine polarities as you surrender into the Now. You will discover how intimacy is a doorway into greater awareness of your true nature and melting into Oneness. You will leave this weekend with a tool kit that supports you in being more open, connected, and aware in your life and relationships. This event is open to individuals and couples. There is no nudity in this class.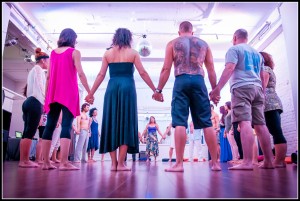 These workshops are facilitated by Crystal Dawn Morris, a Tantra teacher and a Love and Freedom Coach. She is known for her heart-full clarity and for holding a safe space where magic unfolds. Her workshops and coaching sessions give people practical tools for ecstatic living.
Women Healing Women
Reclaiming Our Sexual Radiance
•    Reclaim your sexual power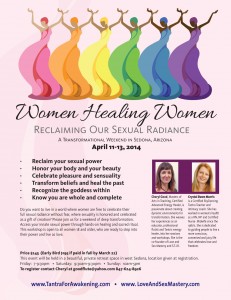 •    Honor your body and your beauty
•    Celebrate pleasure and sensuality
•    Transform beliefs and heal the past
•    Recognize the goddess within
•    Know you are whole and complete
Do you want to live in a world where women are free to celebrate their full sexual radiance without fear, where sexuality is honored and celebrated is as a gift of creation? Please join us for a weekend of deep transformation. Access your innate sexual power through hands-on healing and sacred ritual. This workshop is open to all women 18 and older, who are ready to step into their power and want to live as love.
Workshop testimonial: https://www.youtube.com/watch?v=o1JKtQOGPzg&list=FLinVa2slDvYbeWXtj7YAvUg
Awaken the Goddess Within
Meet Your Inner Goddess

Expand Your Capacity for Ecstasy

Transform Your Shadow into an Ally

Allow More Love and Abundance to Flow
This is a special day for women to explore the goddess within and celebrate the gifts of the Divine Feminine. It is an opportunity to sit in a circle as sisters to heal, transform and reclaim our power. Come and deepen your capacity for authenticity and self-love.
A Weekend of Bliss Designed Especially for You
I can create a customized weekend to meet the needs of your group, at their level of comfort or adventure. Covering such topics as how to create sacred space, welcome intimacy, share desires, transform fears,  expand ecstasy, eye gazing,  explore the multi-orgasmic response, heal sexual wounds,  practice Tantric rituals or….
In a circle of love, respect and safety you will celebrate the embodiment of the divine in each other. You will leave this weekend with tools to create a more joyful, pleasure-filled, awakened life. This weekend is open to individuals and couples at all levels of experience.
An 8-Day Retreat That Could Change Your Life!
Sacred & Sensuous!
Awakening to Erotic Freedom™
Your eyes find your partner's, mirrors to the intimate truth of Oneness. Tight fists of control begin to release their inner grip, as you both relax into the natural Freedom of sweet surrender. Bodies swoon and energies churn, becoming wave-upon-wave of pure, orgasmic Bliss! Hearts swell in profound Joy, expanding beyond walls-of-defense that can no longer contain them. All that remains is this glorious homecoming, this pure and magical celebration of the True Self!
Authentic erotic expression is a powerful dynamic where your human nature dances in union with the Love and Freedom that is your very Essence! You are invited into a container of safety and support, where we will explore this divine dance through a series of playful, inspired practices. In our experiential playground, we will embark on a journey of discovery, closely examining the foundational aspects of the erotic arena. We will play with the possibility of letting-go into the infinite expanse of our Being, "creating space" for greater depths of intimacy, clarity and ecstasy. The result of this transformational process is not only greater sexual fulfillment in your life, but the ultimate fulfillment that is tasted when you are in conscious alignment with your Sacred Self!
Themes you will explore include:

The Power of Presence

The Illusion of Separation

The Supportive Power of Ritual

Receptivity to the Wisdom of the Body

Opening to Profound, Authentic Intimacy

The Role of Surrender in Beholding "The Magic"

The Power of Conscious Touch for Healing and Pleasure

The Importance of Healthy Boundaries in Conscious Relating

The Dance of Masculine and Feminine- Both Inside and Out


Expression of Aliveness and Passion Using Sound, Breath and Movement

Freedom from Shame, Guilt and Fear Related to Sex, Nudity and Pleasure
This is a gender-balanced event (equal numbers of men and women). If you are registering as an individual, consider registering with a friend of the opposite gender at the couple's price. Otherwise, individuals will have their spot confirmed upon registration of an opposite-gendered counterpart. Same-sex couples, please consult with us upon registration. Please be aware that nudity and hands-on healing will be invited into this container of safety, respect and honoring.
EVENING EVENTS
A Heart Opening Puja: An Evening of Celebration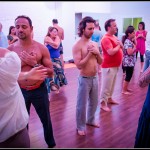 These events are an opportunity to create conscious community and celebrate the joy of living. Each evening is dedicated to celebrating your highest self while recognizing the divine in each other through breath, movement, guided visualization, and conscious communication. Practices may be done alone, with a partner, or as part of the whole group. We strive to create a safe, respectful, and comfortable environment for all to open and connect from the heart. Everyone is welcome to attend and no experience is needed.
The Keys of  Tantra for Awakening
Are you curious about Tantra? This event is a gentle introduction to Tantra and allows you to explore Tantra in a container of safety, love and respect. Please come and learn how to create more energy, ecstasy and presence in your life and relationships. This event is open to individuals and couples of all ages.
Exploring Masculine & Feminine Energy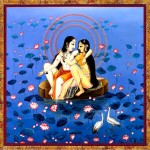 This evening explores of how our inner masculine and feminine energies create our outer relationships. We will spend the evening investigating sexual polarity through a variety of practices. This exciting work is foundational to Tantric practice and can have immediate and profound results in your life. Open to individuals and couples of all ages and all levels of experience. No nudity at this event.
On-Going Groups
Sedona Tantra for Awakening Meetup Group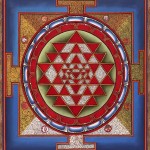 This Meetup group gathers monthly to explore Tantra. There is also a current calendar of all Tantra for Awakening events there. It is free to join and is a great way to meet the Tantra community and begin your own Tantric journey. https://www.meetup.com/Sedona-Tantra-for-Awakening-Meetup-Group/
Nondual Awareness Meditation
Nondual meditation and meditative self-inquiry support tantric practice by developing the ability to stay present, be open and surrender into the the Now. You move beyond your identification with ego and awaken to your True-Self. By asking,  What am I? Who am I? What is freedom?  You taste emptiness and expand your awareness of  Truth. Eventually, you let go of identification with "the story of you" and discover the love and freedom that is always here.
https://www.meetup.com/Sedona-Tantra-for-Awakening-Meetup-Group/events/qnkhphysgbcb/