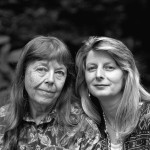 Thursday night December 8th we gathered in Sedona to honor my mother, Freda Morris Belden. I kept the event  casual and simple because that is how she would have wanted it to be. Twelve people came and shared their stories, songs and poems about Freda. Many people who could not attend sent emails to share their thoughts and memories. This picture was taken in June 2005 just before I moved to Sedona.
Here are some of the comments about her.
Freda was playful, fearless, flexible, integral, active, unconventional, multifaceted, ask for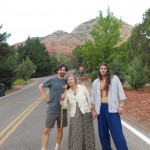 what she wanted, made herself at home, a teacher of love and one of the happiest people I have ever known. She loved to garden and had a green thumb.  There were also many comments about how much she loved her body and being in it. She liked to do chin-ups, somersaults, crawling around on the floor, sitting in the lotus position, she never sat on a chair in the normal way, and she  wasn't afraid to ask to be massaged. She also loved to inspire others to stretch, grow  and expand beyond what was comfortable.
"I was Freda's second best friend. Marion Pastor was her first best friend. She met her first. She reminded me of that frequently. I considered being her friend, in any position, a privilege. She taught me hypnosis and encouraged me to  launch the career that made me so very happy. She took a hick from New York City and introduced me to a world I had never known: psychic phenomenon, hallucinatory drugs that very much widened my perspective, Ericksonian hypnosis. We sneaked into places like nudist camps together and she taught me how to break silly rules. She was a heretic, the most unique human being I have ever known. When we talked about death, she told me she was looking forward to it as a new adventure and wondered what her next life would be like. I intend remebering that when I am dying. You will always be in my heart, beloved friend. I know you have created a momentous happening wherever you are." Elaine Chernoff
Dear Cystal,  As you know, I can't come to Freda's Memorial, because of my physical condition, but my heart will be with you.  Freda wrote highly of my autobiography, which contained many references to her, particularly a description of her when we first met, when we were both employed at the Neurophychiatic Department of UCLA about 1969:
Wanting therapy ,"I  went to Freda Morris, a new psychologist on staff.  She was a puckish, startlingly uninhibited young woman who attracted me immmediately.  She wore no makeup and her light brown hair was casually short and straight in an era when most women wore makeup and had perrmanents.  She took off her her shoes and tucked her fet under her at meetings.  She expressed unconventional flashes of wisdom in her intrermittant Oklahoma twang, offten enough to make me respect her intelligence. She specialized in hypnosis and her Ph.D dissertaion had been in psychic phenomena.
"She looked me over with wide, sleepy-looking bliueeyes and accepted me as a psychotherapy patient. . . I soon found out just how unconventional she was, at the end of our first meeting that she suggested.that we do hypnotherapy on each other, switching roles each time."
It was the beginning of more than forty years of friendship.  We both quit UCLA eventually and met again quite by chance a few years later in  San Francisisco.  We shared an apartment, then not.  We have been in and out of each other's lives ever since.  I can't say I'll miss her, because I am now past ninety years of age.  Bon Voyage, Freda.  See you again, soon!.
Blessings,  Marion Pastor
"I was friends with Freda for 16 years after meeting her in a math class at UCSC. Some of my best memories of her are sharing time with her in the beautiful and tasty garden at Garfield Park and preparing and eating meals with her and many people over the years. If one story conveys her unique approach to life it was one of her tactics for meeting new, interesting people: She would take post it notes and write her phone number and "call me if you are interested in discussing this book" and put them in the back of books she liked at Bookshop Santa Cruz. I will miss her and remember her always for enriching my life in many, many ways. Goodbye Freda." Jean-Paul Cane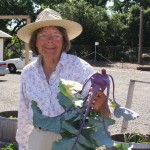 I Love You, Freda
By Larry Rosenberg, December 8, 2011
Remember when she walked into a room
Our vitality, joy and love levels went up
She had a glowing presence all her own
You'd feel that your life had a fuller cup.
Her youthful energy belied her long age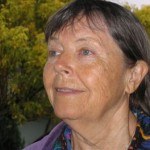 With a mind as sharp as a razor's edge
And a heart so eager to connect and grow
You knew where she stood, firmly with no hedge.
Her eyes had a leprechaun's playful gleam
Her body more warmth than her small frame
Your time with her was an authentic encounter
If she rode a unicorn, she'd have no greater fame.
What was so magical about her every sharing?
She sure put the fun in life's fundamentals
With her blending of wit, wonder and wisdom
She'd tap into a source of cosmic elementals.
All that she did made you a lifelong friend
Her aura embraced you as a cherished pal
You were with the high priestess of delight
From beret to toes, what an extraordinary gal.
Do you miss her bright communication style
And her opinions numbering more than a few?
What about her zest for life's sweet nectar?
With all my being, I admit to you that I do.
You know for sure that she was one of a kind
Her vivid life produced a unique woman of arts
With gratitude to have shared our journeys
Precious memories of dear Freda fill our hearts.