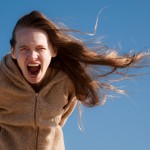 Healing the emotional body is essential if you are going to live in the present moment with an open heart. Our culture generally judges the "negative emotions," like anger, fear, sadness and grief. These emotions don't look pretty and make other people feel uncomfortable. Because we receive this message as children we tend to suppress or deny these emotions by sweeping them under the rug. Our hope is that they will go away, instead, they become unconscious. They live outside our awareness and often run our lives. When we are triggered, out of no where they suddenly overwhelm us; we lash out in anger, withdraw in fear, become depressed, get sick or create a drama. Does this sound familiar?
Learning how to express and release your emotions allows you to heal your emotional baggage, become emotionally aware and stay emotionally current. It is important to begin by stating your intention is for your optimal healing and integration at the soul level and that in the process of this expression you will not hurt yourself, or anyone or anything else. Seven ways of expressing and releasing your emotions include; screaming silently into our hand, power stomping, pillow screaming, pillow hitting, pelvic thrusting, ritual wailing and tantrum-ing. There is also a practice called "Aspecting" which allows you to dialog with the person, situation or internal process you are releasing so you can clear and understand both aspects of the situation. Read more about these tools in Sacred Sexual Healing- The Shaman Method of Sex Magic by Baba Dez Nichols and Kamamla Devi.

Staying Emotionally Current
The beauty of this work is that it allows you to heal the past and reclaim your power. Emotions are life force energy. When they are denied you feel numb, depleted and/or disconnected. As you learn how to process your feelings you begin to feel more alive, aware, and present. By healing the emotional body you reclaim your birthrite as an ecstatic being. By using these tools you can let go of the past and become emotionally current. You process emotions as they arise. In order to be an effective sexual healer you need to heal your own emotional wounds and you need to be comfortable helping others traverse their emotional terrain.