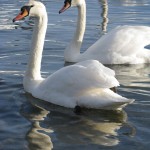 A Valentine's Day Gift for You
I received this as a teaching in the fall of 2001. It came to me while I was meditating at a woman's retreat in Montana. This was during a particularly challenging time in my life when a lot of fear and pain was arising. Over the next couple of days as I practiced "Loving every moment," my heart opened. I felt a deep sense of peace and great joy, independent of what was happening around me. As a parting gift I created 36 little hearts out of paper and wrote these words on each of them. I gave one to each of the women at the retreat. I still have mine on the altar on top of my computer desk. It reminds me to live in the moment with an open heart.
One of the most important teachings of the Buddha, is that suffering arises out of grasping and aversion. When we experience something good we want more or we don't want it to change. When we experience something challenging or painful we want it to stop or we push it away. Both actions cause us to suffer. Isn't this the basic premise of every love story we have ever been told.
"Loving Every Moment," means allowing what is, to be as it is, without judging it as good or bad. It means keeping our heart open and being the love we are, no matter what happens. When pain or fear arises the tendency is to protect our heart by shutting it down and putting on armor to protect ourselves. In the act of protecting our hearts, we cut ourselves off from the very thing we long for, which is Love. We long to love and be loved. In truth our deepest desire is to know that we are Love in form.
I invite you to try "Loving every moment," during the month of February. Witness your heart opening and closing. Notice the habit of defending yourself. What happens the moment before your heart closes? What happens when you keep your heart open and allow the love to flow even in the face of pain and fear? How do you feel when your heart is closed? Does the world look and feel different when you able to Love the moment? How to people respond to you when you stay open? Do they see the Love you are? Do you know yourself as Love? Remember to Love yourself as you are, even when you are unable to "Love the moment."
I would be interested in hearing about your experiences. Please leave a comment or send me an email. www.TantraForAwakening.com
(C) Copyright 2009, Crystal Dawn Morris, all rights reserved.