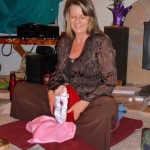 Menopause can affect a woman's health, sexuality and vitality in a variety of ways. SkyDancing Tantra practices can be helpful in keeping you juicy and sexually vibrant throughout the perimenopausal process and throughout menopause. Some of the symptoms I found that respond positively to Tantra include moodiness, vaginal dryness, decreased libido, dysparunia (pain with intercourse), and problems reaching orgasm.
As you enter perimenopause (this can begin up to 10 years prior to the onset on menpopause) you may notice changes in your libido, moods, and physical body. For some woman the change is gradual and for others it may create a number of challenges. While SkyDancing my not be able to address all the issues that may arise in menopause I found the following practices to be very helpful in addressing many common problems.
Chakra Talk
The seven major chakras are energy centers chakras along the length of the spine. They are associated with the endocrine system which mediates the hormones. Chakra Talk is a great way to connect to your "inner guidance system". Menopause affects the entire body and by tuning into a particular chakra you can gather information and guidance on how to support your body as you go through menopause. This practice can be done alone or with a partner who can hold space, listen and take notes for you.
Close your eyes and breathe slowly and deeply until you begin to relax. Then, focus your attention inward and see which chakra desires to speak. Next, consciously connect with your chakra and invite it to speak through you. Make sure that it speaks in first person (e.g. "I, Heart, desire more time for day dreaming." as opposed to "My heart says she wants to spend more time day dreaming."). Allow yourself to listen deeply to what your chakras wisdom. There may be pauses as you tune in and listen. Continue until you perceive it has completed its communication. You can learn more about your chakras and how to communicate with them in The Art of Everyday Ecstasy by Margot Anand.
Opening the Inner Flute
I recommend doing this daily. This practice moves energy through all the chakras enhancing your sense of wellbeing and physical vitality. You can also do this practice prior to making love and /or incorporate it into your love making.
Here are 7 steps to opening your "Inner Flute."
1) Stand with your knees hip width apart and slightly bent.
2) Breathe through your mouth and into the belly, allowing it to expand.
3) Increase the energy by breathing in as if you are sipping through straw.
4) Allow your pelvis to rotate freely, keeping the knees bent. As you inhale rock the hips back, creating an arch in the back. As you exhale, tuck the tail bone under, flattening the back.
5) Add the PC pump. As you inhale squeeze the pelvic floor muscles pulling them upwards and as you exhale let them relax.
6) Put all the steps together. As you inhale imagine you are breathing the energy up from your root to your heart. Practice this until you feel the energy pulsing from your root to your heart. You can play with speeding up and slowing down your respiratory rate.
7) Once you have mastered connecting root and heart move the energy to the crown. Practice until you can feel the energy flowing from your root to your crown. See yourself as a rainbow bridge of light connecting Earth and Sky.
Self Pleasuring
Because menopause may affect your libido and sexual response it is very helpful to self pleasure regularly. Self pleasuring is a wonderful way for you to explore your body and sexual energy. It gives you time to discover how your needs are changing. You can take time to love your body and tune into the messages it is giving to you. It is an opportunity to learn what excites you without being concerned about your partner. Self pleasuring is not just about touching your yoni (genitals) it is about connecting to your whole body and becoming aware of its needs and desires. Experiment with different types of touch, pressure, speed and erogenous zones.
I recommend self-pleasure regularly. As you pleasure yourself stay open and present. Take this time to give yourself love and to tune in and listen to what is going on in your body. What messages does it have for you? Notice what feels good in enough detail that you could tell a lover how to do it in the same way.
"The Change" is often a process of rediscovering who you are and coming into a new relationship with yourself. This can also effect how you connect to your beloved. Self pleasuring can be an empowering way to gather information so you can communicate to your lover about how you like to be loved. This is a great way to deepen intimacy and increase the likelihood of being touched in the way that most pleases you.
Menopause is a time of change. It can be challenging for some women and empowering for others. It gives you an opportunity to connect to your body-wisdom in a new way. The practices of SkyDancing Tantra can be helpful in supporting you on your journey. Please feel free to contact me if you have questions or would like information about my forth coming book called Awakening Your Inner Goddess, How to be a Juicy Woman in 30 Days or Less.
Copyright 2010 Crystal Dawn Morris
Crystal Dawn Morris is a Certified Sky Dancing Tantra Teacher and the founder of Tantra for Awakening. She is committed to helping people integrate Tantra into every aspect of their lives through her workshops, coaching sessions and blog. Crystal is a Certified Nurse-Midwife and has been involved in women's health since 1984.